What's on our mood board this month?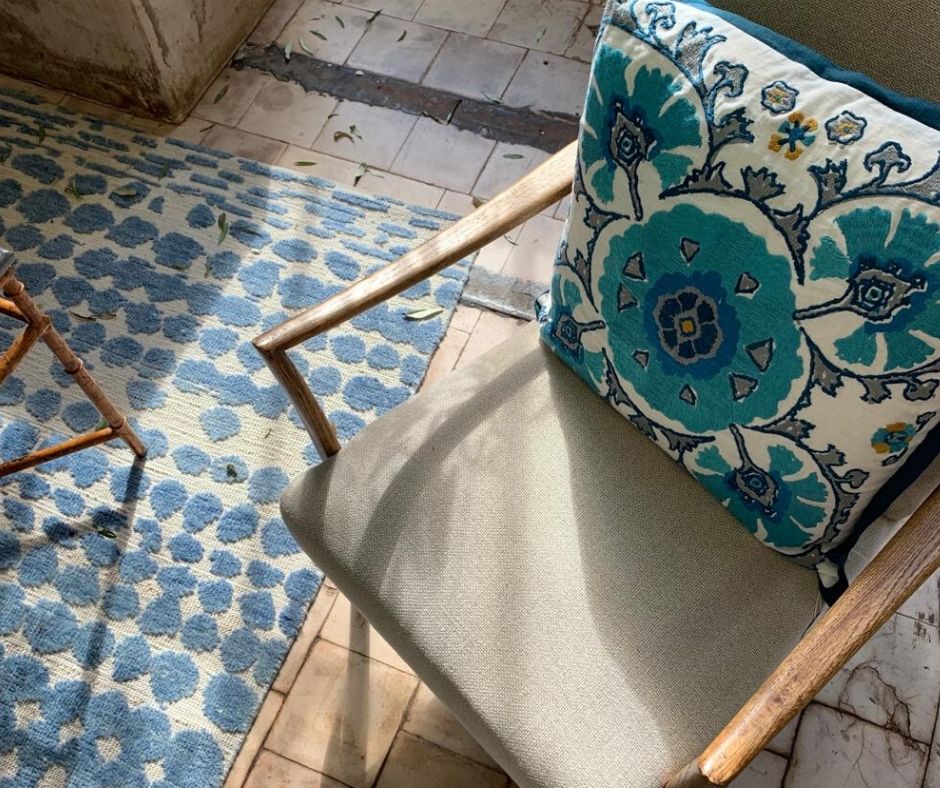 With gardens blooming and everyone relishing the opportunity to take a little more time outside, our team is no exception. Zoom meetings, scheming, and as much fresh air as possible have been the mainstay of our weeks.
We've been spending some mornings in the studio (at a distance), pouring over fabric books, and keeping our tree watered! It's lovely to be back and to have access to everything we need for our remote client meetings.
x The TCI Team
What We're Scheming
With glorious weather and zero travel on the agenda, we are have been laser focused on making our outside time comfortable. With a huge selection of weather proof  fabrics available, in stunning patterns and textures, there is no excuse to live with hard wooden furniture or plain coloured seating. Give your outside space a new lease of life and use throw cushions and upholstered seat covers to transport you to more exciting locations even if we can't manage to get there this year.
Take a look at some of our favourite outdoor fabric choices and how we'd put together a fabric scheme to suit any garden.

What we're browsing
The new collections from Mark Alexander are our absolute favourites at the moment. The Casual Collection is understated and elegant, with ever-versatile stripes and luxury weaves in neutrals and blues. The Rhythm Collection inspired by West African textiles integrates original fabrics in weaves and embroidering that will work beautifully in some of our current projects. So versatile but still making a statement, these collections offer so many scheme possibilities to get excited about.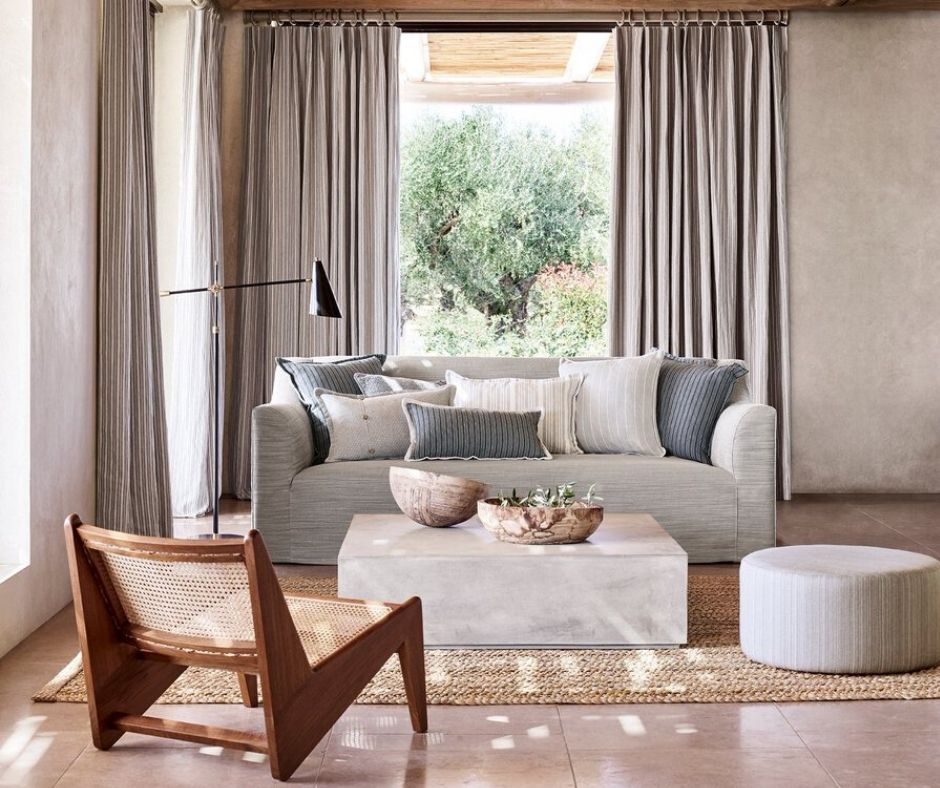 What we're gardening
Perhaps you're already a seasoned green fingered garden lover. Or maybe lock down has given you the opportunity to dip your toe into the world of the garden. Whatever your expertise, June is the perfect month to soak up the fruits of your labour. We've been checking on our budding dahlias, planting out seedlings (the kitchen is officially a greenhouse these days) and relishing in the short but stunning peony blooms. If you could do with a few tips, we regularly dip into The Five Minute Garden by Laetitia Maklouf which has brilliant and simple lists of things we can be doing throughout each month. Gardeners World also has endless information, tips, videos and 'how-tos' for anything you're unsure of, it's ideal no matter what your green credentials are.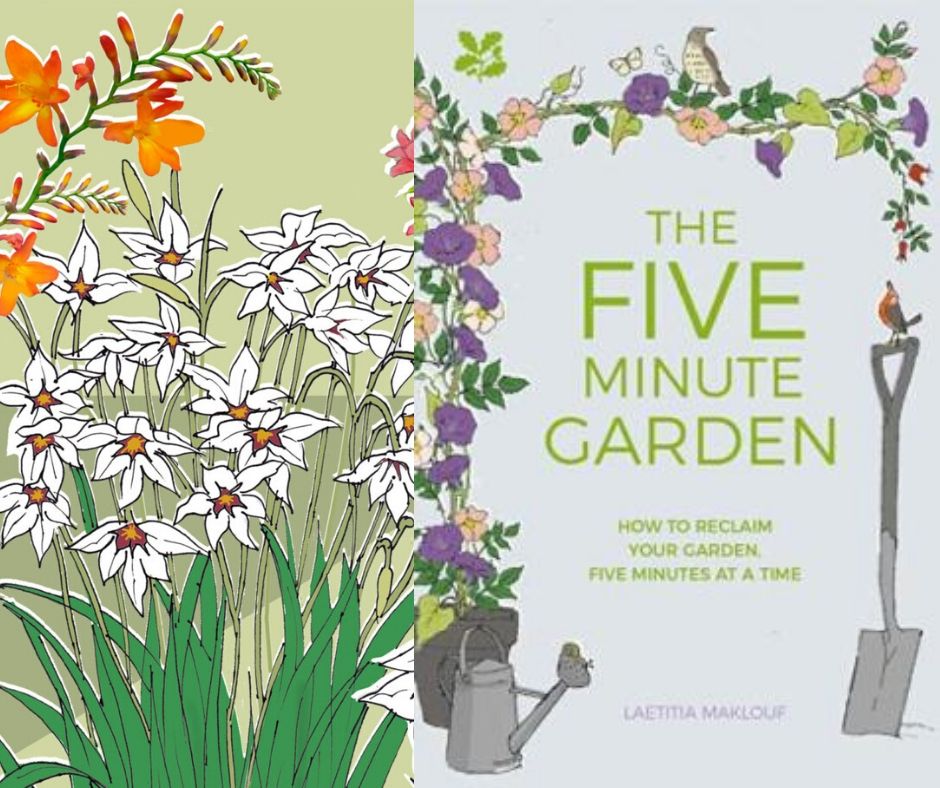 What we're listening to
We've never read more books or listened to more podcasts as in the past couple of months! And the more we listen to, the more we find and like. Our top podcasts of late cover everything from entertaining to interiors, living a wild and free life to juggling work and family. Here's our mini round up in case you could do with some new material on your headphones!
Broadcaster, interiors lover and founder of Hoste, Laura Jackson chats about food, travel and interiors with guests who do the hosting. Our recent favourite has been Laura's chat with Tammy and James Lohan who founded the global travel club Mr and Mrs Smith. Admittedly it made us lust for travel even more but absolutely worth a listen.
Every episode in the Happy Place series offers something, whether emotional or spiritual, life lessons or inspiring motivational moments and her interview with Glennon Doyle author of Untamed, is no different. From parenting discussions to getting angry with the world, body images to addiction, nothing is off limits.
Ever the fascinating interviewer, Louis has launched a lockdown podcast where he chats to individuals he's always been fascinated by. Super informal, and incredibly revealing, we particularly enjoyed his chat with Rose McGowan, which covers a frankly startling life from growing up in a cult to being part of the ignition of the MeToo movement.

We're here
If we can help with anything in your home, get in touch.
We'd love to help.
T: +44 (0)28 9045 0060